The Obama's love of dance
06/05/2016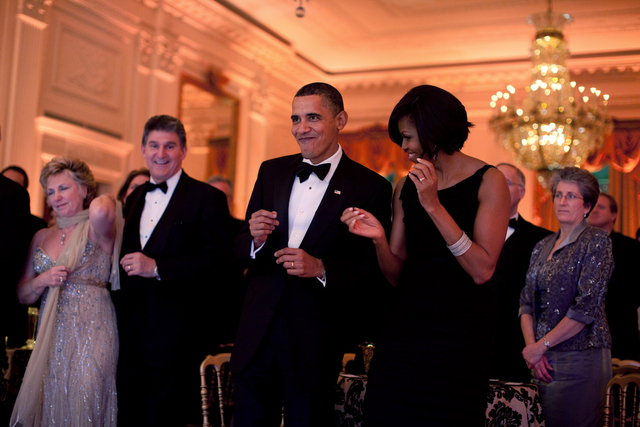 The Obama's will take any chance they get to dance, and the latest has seen them dancing with Star Wars Stormtroopers at the White House, Club Dance Holidays takes a look back at America's First Family and their obsession with dancing.
Yes, it's true. Barack and Michelle Obama just love to show off their dancing skills when they can. And not just in one particular style, but any dance forms they can try. Whether it is for fun, or promoting a health initiative, trying the customs of another country, or in a celebratory mood, they never seem to say no to a dancing opportunity.
And this new video, which you can see on the BBC website
here
, of them dancing with Stormtroopers at the White House this week, along with 2016 being the final year of Barack Obama's presidency, has made us here at Club Dance Holidays, to look back at the past 8 years to find the top dancing moments of the Obama's. No doubt there will be more to come until they vacate the White House in January 2017.
In the mean time, here is our top moments. Enjoy!
1)
President Obama dances the Argentine Tango in March 2016, at a State Dinner while on a visit to Argentina
2)
First Lady Michelle Obama doing Zumba, as part of her "Let's Move!" initiative to solve childhood obesity, through good nutrition and being active.
3)
President Obama dances Salsa (from 3mins 40sec) at the White House in 2009, for "In Performance at the White House: Fiesta Latina" concert.
4)
The Obama's dance together at the 2
nd
inaugural ball in 2013, after President Obama wins a second term.
5)
And their "First Dance" back in 2009, when Obama was first elected
6)
Michelle Obama dancing on the Ellen DeGeneres Show to promote the 5
th
anniversary of "Let's Move!" and showing dance is good for a healthy lifestyle
7)
President Obama dancing the Lipala, a traditional Kenyan dance, in 2015 at a dinner in Nairobi, Kenya
8)
And finally, the Obama's dancing with a 106 year old woman at a reception room in the White House
Club Dance Holidays does a range of dancing trips in both the UK and abroad, including Tango in Berlin, Malta and Granada, Salsa in Cuba, Zumba weekends in Bournemouth and 7 nights in Calpe, Spain, Ballroom dancing and more.
Book early for massive savings.
Tango in the streets of Berlin