Viva L'Espana
18/05/2016


Viva L'Espana Yes, we are celebrating the glory that is Spain, as last week the country was rated as having the world's best beaches.
Blue Flag beaches
Last week, Spain had the highest number of Blue Flag beaches than anywhere in the world, for another year running. It beat its own record in the previous year, with now having 586 Blue Flag beaches compared to 577. This means that Spain, more than any other country in the world, has the cleanest, most environmental friendly beaches in the world. According to the online news site thelocal.es, this means that six of the top beaches worldwide is in Spain, and one in five beaches within Spain has a Blue Flag.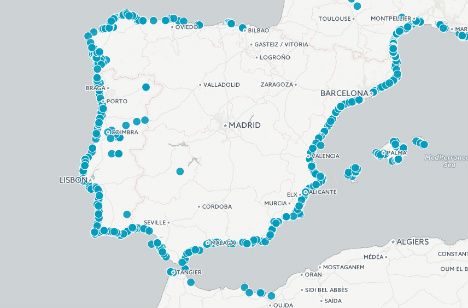 Map of Blue Flag beaches in Spain
Blue Flag, if you didn't know by the way, is an award system that allows beach operators and/or local authorities to fly the distinctive Blue Flags on their beaches if they have met strict criteria's for water cleanliness, environment protections and eco-friendly management, education of the public and safety. It's the highest award a beach can receive, and it's telling that Spain has so many and in multiple years, with the numbers rising.
The gap between the next 4 countries combined are not even close to match the gap between Spain and second placed Turkey. Turkey with 444, Greece 430, France 400 and Portugal 315. The difference between them is 129 beaches, whereas Spain leads Turkey by 142 alone! Because of this recent announcement, we are going to talk about Spain, and we'll focus on 3 main places – Calpe in Costa Blance, Almeria and Granada in Andalucia.
Calpe
Beach in Calpe, with a view of "The Rock"
Calpe, a Mediterranean coastal town in the province of Alicante, is roughly over 40 miles away from Alicante. The most striking landmark in Calpe is the Gibraltaresque limestone rocky outcrop emerging from the sea, Peñon de Ifach. You can get the chance to summit the mount of the rock, which has a stunning seascape view.
On the southern side of the Peñon de Ifach you would find the old town around the bay of Playa Arsenal. Here you'll find Calpe's other industry, apart from Tourism – fishing. Every afternoon you can watch the daily catch being unloaded and auctioned at the fish market. In the Old Town you can walk along the old, narrow, cobbled streets, with potted plants decorating the area. The old townhouses within the old city walls are still homes today for the locals. It's a beautiful area to go for a lovely afternoon stroll. And every Saturdays there is a large market, selling the freshest of food produce, with Wednesdays dedicated to the flea market.
On both sides of the Peñon de Ifach, Calpe is lined with the whitest sandy beaches and clear blue sea. Here, on both sides you will be able to find the Blue Flag listed beaches.
Almeria
Almeria is another coastal city in southern Spain and is the capital city of the Andalusia province. Unlike other Spanish coastal cities, such as Calpe, Malaga etc., Almeria is nowhere near as famous or well known. And this is its secret. Because, it's not as a popular destination compared to others in the southern region, it's a city that is not as "unspoiled" as the others.
Not to say that places like Calpe should not be visited – it's a lovely getaway place to relax in the sun. But Almeria has a lot of gems – its history, beaches, and architecture. And also the sun! Almeria gets more sunshine than any other place in Spain. And its beaches, especially to the east of Almeria, are not only beautiful but untouched too. According to Lonely Planet:
"…coast east of Almería in eastern Andalucía is perhaps the last section of Spain's Mediterranean coast where you can have a beach to yourself. This is Spain's sunniest region – even in late March it can be warm enough to strip off and take in the rays."
Granada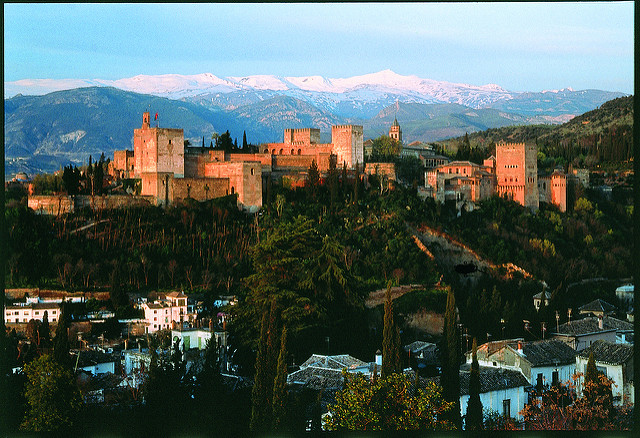 View of the Alhambra in Granada, with the Sierra Nevada Mountains in the background

Finally, last but not least Granada… Yes, technically it's not a coastal city and therefore doesn't have a beach, but we couldn't leave Granada out, one of the most beautiful, enchanting cities in Spain. And while it's not by the sea, Granada is situated half way between Malaga and Almeria, so at least you have a range of places nearby. You can drive to the sea in 1 hour.
Nestled by the Sierra Nevada Mountains with its snow-capped peaks (where you can go skiing too in the right season), Granada has been a love affair for many a visitors because of its charming and beautifully historic architectures, with the Alhambra palace at its centrepiece. But Granada is not only a "living museum" to the past. It also has "a feisty cosmopolitanism" and is a city that's:
"Elegant yet edgy, grandiose but gritty, monumental but marked by pockets of stirring graffiti, 21st century Granada is anything but straightforward " – Lonely Planet
According to Time Out magazine, Granada is also an "epitome of España profunda: deepest Spain, where traditions hold firm, flamenco echoes around the whitewashed streets and the people speak the most impenetrable form of Castilian." A city of art, flamenco, cobbled streets and old buildings, heritage and gorgeous nature, and a large student scene, Granada seems to have it all.
Club Dance Holidays has dancing trips to all 3 destinations throughout the year, Tango in Granada, Salsa in Calpe, and West Coast Swing in Almeria. So why not join and see the wonder of Spain with the Club Dance Holidays team!