Dancing on the Screen
25/10/2013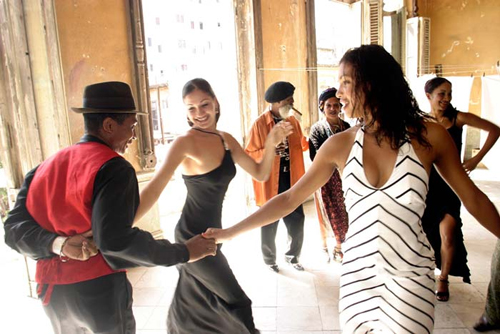 Dance has always been popular within the media with old classic films such as Dirty Dancing, Singin' in the Rain and Saturday Night Fever.
Here we take a look at the various dance films and the dance styles incorporated in each film to make the dance moves so unforgettable.
One of the most popular films is Dirty Dancing (1987). This was a huge box office hit and dance moves from here are still being incorporated in dance sequences today. The most iconic scene from the film was during 'Time of My Life' where Partick Swazye lifts Jennifer Grey to the crowd. The sequence was voted the best movie dance moment of all time and is still practised today by many according to a survey from shopping channel QVC.
John Travolta created something out of this world for disco in the American film, Saturday Night Fever in 1977, as he Salsa danced (almost) solo on the dance floor to 'Stayin' Alive'. The poll also found this to be one of the most attempted dance moments of all time, along with Swazye's iconic lift scene from Dirty Dancing.
More recent films like Take the Lead (2006) and You Got Served (2004) incorporate a variety of dance styles in one sequence and are influenced by social/party dance groups.
Take the Lead introduced a new adaption of Tango dancing in 2006 where a third person was included into the dance. The film incorporates its own flavour and style to the traditional Tango dance. Many dance styles were used in Take the Lead, including the waltz and hip hop.
You Got Served focuses on hip-hop/street dance involving various styles including popping, locking and breaking. The moves were created in the 1970s by dance crews who practised in outdoor spaces. These urban dance moves were used in shows and films in the 1980s such as Wild Style and Beat Street. Since then the moves have developed and have become established under streetdance despite them now being practised in studios as well as outdoor spaces.
Hip-hop dancing is often improvised and dancers often take part in freestyle dance competitions which is what makes it more distinctive to other dance styles.
With dance becoming more popular in groups than in pairs, group dancing is becoming more of a social/party aspect to keeping fit. The survey from QVC of 1,000 Brits revealed that the nation's favourite weight loss method is dance.
Top 10 finishers following on from QVC's survey of the best dance film moments –
1.
Dirty Dancing – 'I've Had The Time Of My Life' (25 percent)
2.
Singin' in the Rain – 'Singin' in the Rain' (23 percent)
3.
Saturday Night Fever – 'Stayin' Alive' (16 percent)
4.
Grease – 'You're The One That I Want' (8 percent)
5.
Pulp Fiction – twist competition scene (6 percent)
6.
Grease – 'Greased Lightning' (5 percent)
7.
Flashdance – audition scene (4 percent)
8.
Top Hat – 'Cheek To Cheek' (3 percent)
9.
Fame – 'dancing in the street scene (3 percent)
10.
Footloose – 'Footloose' (2 percent)
Interested in learning to dance? Club Dance Holidays offers a variety of
dance styles
with a choice of destinations. Why not try out one of our dance holidays and enjoy the best of both worlds.
Click here
for more...