10 Reasons Why Everyone Should Dance
29/11/2013


There are many advantages of dancing, social, physical and physiological all which will help have a positive impact to your life. Here are the top 10 reasons why you should jump off that couch and onto the dance floor: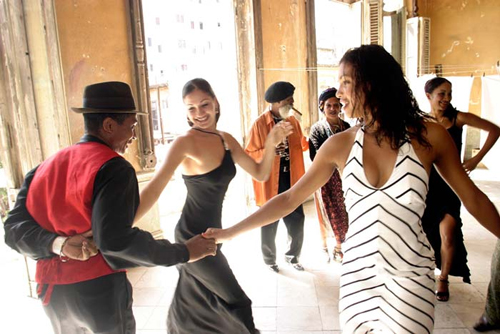 1 – Stress Relief –
dancing is a great recipe to relieve stress, it involves the best ingredients for stress relief: physical activity, music and emotional expression
2 - Brain Boost – dance moves force the brain and body to become tightly coordinated. The moves are memorised keeping the brain sharp
3 – Sturdy Bones – dancing can prevent the slow loss of bone mass as the movements from dancing can strengthen the weight-bearing bones – the tibia, fibula and femur.
4 – Physical Fitness – 30 minutes of dancing burns between 200-400 calories and is more fun than 30 minutes of working out at the gym! It improves posture, strength, stamina, alignment and more.
5 - Cardiovascular Fitness – The level of exertion is up to you. You decide on whether you want to do a high intensity work out or whether you want to take it easy. If done regularly, dancing can lower heart rate, blood pressure, can improve your cholesterol profile and it's safe!
6 - Social Environment – dancing is a great way of meeting new people. Classes are usually set in a relaxed and non-threatening environment
7 - Mental Health – previous studies have proven that activities such as dancing which involves both physical and mental activity can in fact help slow the process of Alzheimer's disease
8 – Balance – those who have a history of dance tend to have less accidents from falling as they get older
9 – Confidence Booster – dancing can help boost confidence. It's a fun and exciting way to express yourself. All you need is good music.
10 – Energy Boost – Daily exercise gets your blood pumping which boosts your energy levels. It also gives you endorphins which increases your happiness levels.
Enjoy dance lessons with Club Dance Holidays,
click here
and choose your dance holiday for 2014 today.