Tango - There are no mistakes
28/01/2016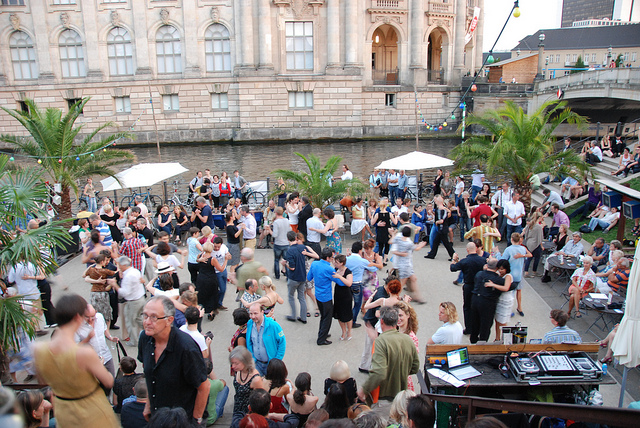 Open air Tango in Berlin, opposite Museum Island
"No mistakes in the tango Donna. Not like life. Simple. That's what makes the Tango so great." – Al Pacino, Scent of a Woman
Whether it's
Al Pacino asking a female character to the tango
in the film
Scent of a Woman
(1992), Richard Gere being led by Jennifer Lopez in
Shall We Dance
(2004) or Sally Potter dancing with Pablo Veron in her semi-autobiographical film
The Tango Lesson
(1997), the allure of tango is deeply established in popular culture. The close interaction required, and seductive and steamy movements and through in the music all add to the idea that tango is romantic dance form, a "lovers dance".
Although, the tango was formed in the dance bars within the districts of Buenos Aires and Montevideo in the late 19th century, the true origins of tango is not fully clear and still being debated. But there is belief that the dance has its roots from a combination of various older dance forms including the traditional Cuban country dance called habanera; Candombe, a Uruguayan dance that originated from African slaves; Milonga, an Argentinean music which itself is formed from traditional native Indian and early Spanish colonialist music, and various other dances from African communities in Buenos Aires. Add European music, and this is how many believe the tango was formed.
From the bars and streets of Buenos Aires and Montevideo, the tango was introduced to Paris in the beginning of the 20th Century before the First World War, where it became a hit. From there it spread to other European capitals and eventually arriving in New York in 1913.
Tango is similar to jazz in its philosophy of style, even if the music in tango is not jazz at all. Like jazz, the heart of tango dance is about improvisation and unpredictability. That's where the seduction and excitement comes in – you never know what to expect. And much like jazz, the tango gained popularity in the early 20th century, especially in the 1920s, where it was danced in cabaret bars and theatres, much like jazz was in the US in the speakeasy bars during Prohibition. It was either seen as an exciting new, decadent and sexy dance form or frowned upon and controversial for its steamy and obscene style.
However, tango foundered in the 1950s, where rock n roll took over. However, it slowly re-immerged again, slowly re-gaining its popularity both in the dance world and in movies, especially from the 1970s, for example The Conformist/Il Conformista (1970), Death on the Nile (1978), Strictly Ballroom (1992), Evita (1996) and Tango (1998) plus many more.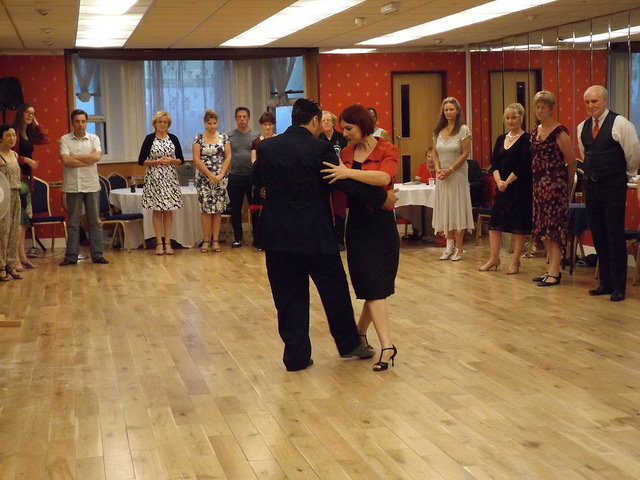 2 nights Tango in Eastbourne
Today you can find many forms of tango including Argentine, Ballroom, Finnish and Queer tango, though the two most popular forms of tango is Argentine and Ballroom, with the Argentine tango being the most popular and original form of tango that is depicted in films. The BBC, once again, has a video about the history of Argentine tango which is not only brilliant but hilarious that you can
watch here
.
Ballroom tango varies from Argentine as it is a more competitive style of tango. Within Ballroom there is two forms – American and International – with International being the style used in competitions, as it has a more competitive style. Both branched off from Argentine tango adding their own style and cultures into the dance, for example in American ballroom tango, they added more open moves such as underarm turns. International ballroom was created and later codified in the UK. Organised competitions of this version of tango went all around Europe and, though was initially called the English style but was later changed to International.
Now, for those of you who've been tempted to dance the tango, why not go on an Argentine Tango beginner's course with Club Dance holidays in Malta, Berlin or Granada. And for those who know their Argentine Tango, why not challenge yourself with expanding your skills and improvising with a fellow dancer. Along with Granada, Club Dance is also offering tango holidays to Berlin for intermediates too – check out our blog about Berlin,
the second city of Tango
.
4 nights Argentine Tango in Malta, for Beginners/Improvers 19th to 23rd May 2016
4 nights Argentine Tango in Berlin, for Intermediate/Advanced 30th June to 04th July 2016
2 nights Argentine Tango in Eastbourne, for Intermediate/Advanced 05th to 07th August 2016
3 nights Argentine Tango in Berlin, for Beginners/Improvers 12th to 15th August 2016
7 nights Ultimate Autumn Argentine Tango in Granada, for all levels 17th to 24th October 2016
Sunset over Granada