Burn Those Calories
29/01/2016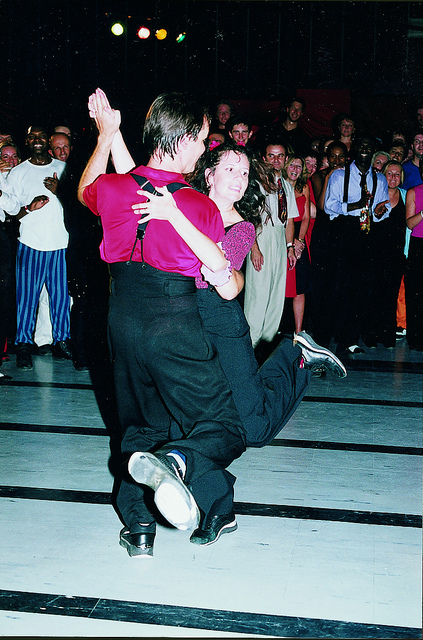 West Coast Swing
Dancing is not only a social activity, but is a fantastic way to burn calories, build strength and flexibility. Each style of dance vary in how much calories you can burn, but whatever dance you do – be it Tango, Zumba, Salsa, Ceroc, Swing or Line dancing – they all do the same job in keeping your body in top tip shape.
Let us take Zumba for example. This is an aerobic based dance form that exploded, not only in the dance scene, but also in the fitness/exercise world. The craze and popularity for it had taken the fitness world by storm. It has even led to a story being reported that, one woman lost a whopping 123lbs – that's 55kg for the metrics users out there - from dancing Zumba! There is more about Zumba, and this amazing story from our previous blog,
which you can read here
. This new craze for dancing as a new form of exercise has gone global, and has just now exploded Down Under, as reported here on Australia's nation newspaper,
The Australian
, explaining while Aussie's are absolutely crazy for it now.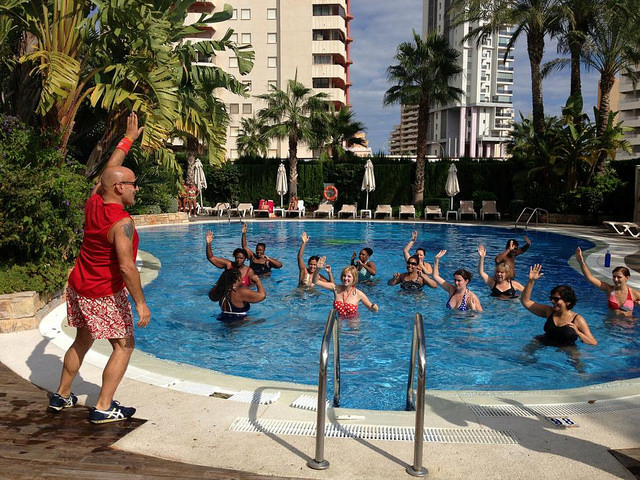 Club Dance Holidays in Calpe featuring Zumba

®

Fitness classes
There are studies that keep coming out that dancing is a very suitable form of exercise and in some cases actually better than most traditional sports. A study from 2008 by the University of Hertfordshire has found that Ballet Dancers are all round fitter than International Olympic swimmers! Just read the quote below from sciencedaily.com which reported on the story:
"The investigation looked at a range of 'fitness' testing including strength, endurance, balance, flexibility and psychological state amongst others, enabling an individual 'fitness profile' to be constructed.
Of the ten most important measures of fitness employed, the ballet dancers had stronger scores in seven of them when taking into account body size."
For those of you out there that enjoy Salsa,
Glamour magazine
has a calorie calculator that you can use to see how much calories you've burned from a Salsa class.
But it's not all physical…
Importantly, and often forgotten, is how much dancing is good for your mental, as well as your physical wellbeing. Dancing has been shown to boost positivity and self-esteem, reduce stress, and improve muscle memory and balance. Washington University in St. Louis, U.S.A., did a study in 2007 and had found evidence that doing Tango, especially Argentine tango, may have had improved mobility and balance of people suffering from Parkinson's disease.
The benefits of dancing seems to be endless, and there is evidence that attendance in dance classes are generally higher than other sports once people start doing it, because they find it more appealing.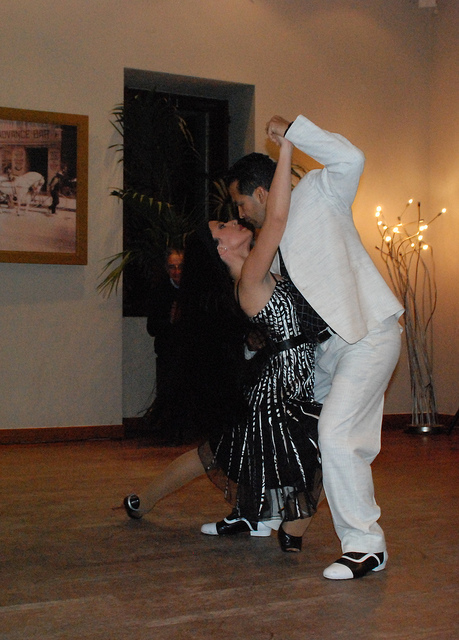 Tango in Malta
The National Health Service (NHS) certainly recommends dancing as another form of fitness, and included is almost all the dance holidays that Club Dance Holidays offers – Salsa, Ceroc, Swing/Jive, Zumba and Ballroom. They even have their own La Bomba dance exercise video for beginners which you can see
here
. All these dances will help burn those calories, keep your body fit and rigorous, keeping those muscles healthy, strong and flexible, increase your stamina and equally important getting rid of any stress and keeping you positive. And as it should. This is a fun way to keep you fit, share your positive energy with fellow dancers and meet new people.
Club Dance Holidays has a range of dance holidays that all are good for you, sweat those fats out, with likeminded people, making new friends. Remember, the benefit of dancing is not only physical, it's also mental. It helps to destress, raise positivity and happiness, as you are part of a social activity where you're all in it together and sharing a bond and long-lasting friendship. And all in lovely, exotic locations such as Havana, Paphos or Almeria.
So come along, get up from your seats, burn those calories on the dance floor, and feel better with a Club Dance Holiday!
Club Dance Holidays featuring Zumba

®

Fitness classes
2 nights Zumba

®

Fitness in Bournemouth 13th May to 15th May
7 nights Zumba

®

Fitness in Calpe 12th to 19th June
2 nights Zumba

®

Fitness in Bournemounth 18th to 20th November
Club Dance Holidays featuring West Coast Swing
7 nights West Coast Swing in Almeria 22nd to 29th May
Club Dance Holidays featuring Salsa
6 nights Salsa Splash Paphos 11th to 14th April
10 nights, Salsa in Cuba! 30th May – 09th June & 31st October – 10th November
7 nights, Salsa in Havana 30th May – 06th June & 31st October – 7th November
6 nights 10th Anniversary Salsa Splash Calpe 20th to 26th September
14 nights, The Roots of Cuban Salsa 29th Dec 2016 – 12th Jan 2017
Club Dance Holidays featuring Ceroc
7 nights Ceroc Blaze Paphos 24th April to 01st May
7 nights Ceroc Med Fest Calpe 11th to 18th September
Salsa Splash Holiday