Dancing for Love
12/02/2016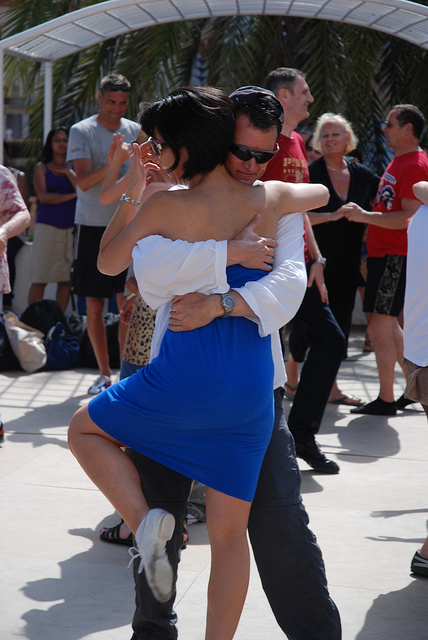 Couple in a Salsa Splash holiday, Calpe, Spain
Its Valentine's Day this Sunday. For those who have someone, congratulations and wish you a happy Valentine's. But have you thought about what you will do for Valentine's?
Roses? Candle lit dinner for two? Box of chocolates thrown in as well?...
But doesn't that feel tired and frankly overused? Instead for this year, why not do something more exciting, fun and sexy than taking your partner out to dance? The wonderful Huffington Post even recommends dancing as an
alternative idea to spend Valentine's Day with your love
. In fact, why not even take someone to a Tango or Salsa class or Swing. Dance, especially partner based dance like Salsa and Tango are so rooted in romantic feeling. Both dance forms require close interaction, with the movements being very seductive and steamy. As mentioned recently in a
previous blog
, it is no wonder both Salsa and Tango are seen as the "lovers dance". Sounds so much more exciting, don't you think? Dancing the night away with the love of your life, trying to perform these dance manoeuvres that bringing you closer, following the beats, the rhythm of the music. Does that not sound better than the usual Valentine's Day activity, which has become such a cliché? I beat you will have the most exciting Valentine's Day ever.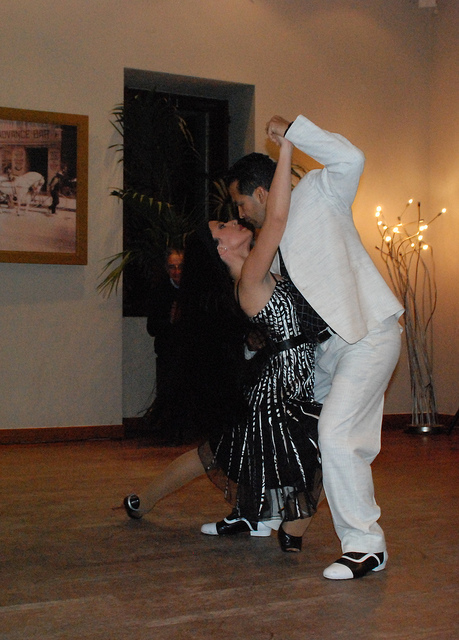 Couple doing the Tango, Malta
Which brings us to those without partners.
All the singletons out there, don't despair because you feel left out from Valentine's Day. Have all you singletons thought about going to a dance class to meet the potential love of your life?
Well, you should try it out. It's the perfect place to meet new, likeminded people, in a friendly and really fun environment. Dance, and this is for men out there especially, it is a great way to meet new people. Many people like to dance, especially women, but continue to find the same old problem – not enough men. As Whitney Houston once sang,
all that ladies want is to dance with somebody
.
There are many dance events catered for single people, and organisations like the popular and famous dating site,
Match.com
, run Salsa dance events – a wonderful dance - as an alternative way for those on the dating scene to meet potential partners. eHarmony, another famous and popular dating site, certainly recommends it too –
check out their page explaining why
dance is the perfect place.
So gentlemen, and ladies too, instead of going to bars and what not, why not go to a dance class and find the love of your life there, and compete for all those beautiful ladies and men out there waiting for you.
Club Dance Holidays runs many partner based dance holidays, and is a great way of meeting new people for all those singletons out there. Some of the holidays have waiting list for single travelling females, so gentlemen, why don't you book on to one of our dance holidays and meet some great people, in fantastic locations. Who knows, you might just find the one out there!
Also, for couples, why not treat your loved one to a dance holiday as an alternative romantic gift for Valentine's Day?
The perfect romantic holidays include Tango, Swing and Salsa trips in Berlin, Cuba, Spain, Cyprus and Malta, suitable for all dance levels. See below of these upcoming holidays:
6 nights Salsa in Paphos, 11th to 17th April
4 nights Tango in Malta (Beginners/Improvers), 19th to 23rd May
7 nights West Coast Swing in Almeria, 22nd to 29th May
7 nights Salsa in Havana, 30th May to 6th June & 31st October to 07th November
10 nights Salsa in Cuba, 30th May to 9th June & 31st October to 10th November
4 nights Tango in Berlin (Intermediate/Advanced), 30th June to 4th July
3 nights Tango in Berlin (Beginner/Improver), 12th to 15th August
6 nights Salsa Splash in Calpe, 20th to 26th September
7 nights Tango in Granada, 17th to 24th October
14 nights The Roots of Afro Cuban in Cuba, 29th December 2016 to 12th January 2017
West Coast Swing, Almeria