Line Dancing with Maggie G
15/02/2016


Welcome to a new week everyone. Hope all the lovers out there had a wonderful Valentine's Day. Hopefully you all took our recommendation to take your partner to a Tango, Salsa or Swing dancing night as a special, fun, sexy treat?
Last week this came across our table, and it is from a lovely couple who have been on many of Club Dance Holidays Line Dancing trips. Read their review below and see if you'll be tempted to go on one of our upcoming Line Dancing holidays:
"We returned on Saturday, May 4, from another extremely enjoyable Maggie G Line Dancing holiday week in Lagos on the Portuguese Algarve. It has taken me a little longer to produce this report, than I would have liked, mainly due to problems with my Internet Access. There were about 70 dancers on the holiday and the atmosphere was excellent, the dance floor was just about the right size for us all. The icing on the cake for us was that Darren Bailey was the guest choreographer.
Maggie, as ever, worked hard to ensure that all of us had a good time, and continually checked that all present were dancing as much as they wanted and had no problems."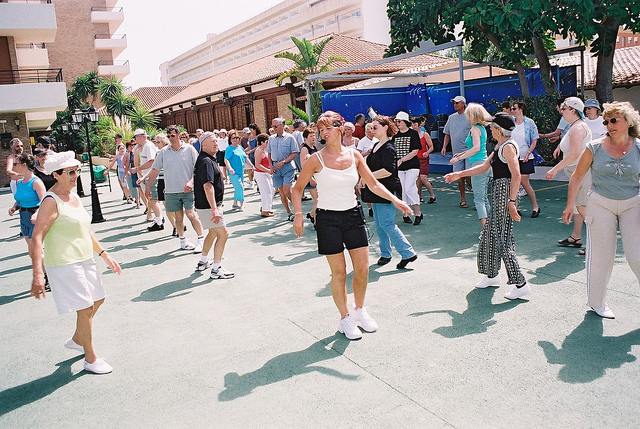 "We have been taught dances by Darren at Eric's club before, but had not previously been with Darren for an extended period. On this holiday his teaching was as excellent as ever, it was always totally clear what the detail of the steps was. His hints on style were helpful. Like Maggie, Darren is clearly a people-person and like Maggie he went out of his way to help everyone.
Darren is, at least for us, the best Guest Choreographer we have seen with Maggie and there have been some good ones including Kate Sala and Alan Birchall.
The DJ David Blake played an excellent selection of dances through the week including many older and standard dances. Dave made a point of getting any music requested, via the internet if neither he nor any of the dancers present had the relevant music. We were able to dance for a large proportion of the time and certainly sufficiently to be fully satisfied.
To my delight we even danced my favourite dance of all time 'Dream Weaver' or at least 5 of us did. We danced many of the older standard dances, probably all that we could remember the names of. Surprisingly only Jean and I danced 'Back in the Saddle'; this dance does not seem to have caught on elsewhere.
Darren's Windy City Waltz and his Skiffle time were danced several times, but I so enjoyed Darren's dancing that I sat out, or actually stood out, those out to watch on each occasion."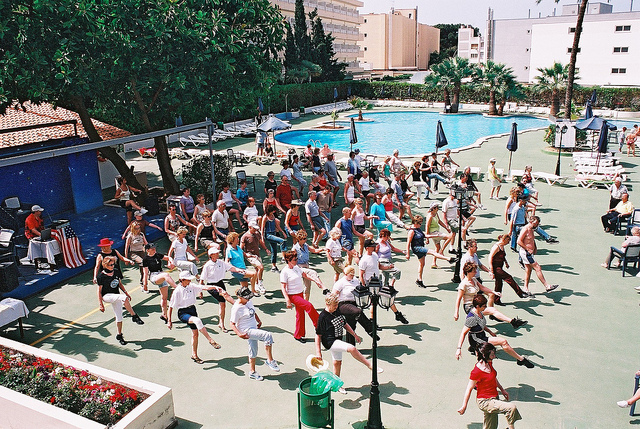 "There were dancers from quite a few European countries on the holiday with probably the Norwegians the biggest single group. As we normally find nearly all the dancers were very friendly and we regularly see at least half on many of the Maggie G holidays. Both these facts help to make it an enjoyable holiday.
The hotel was excellent and the food satisfactory... This is probably the second best hotel we have been to abroad, the hotel in Calpe being clearly the best. Advance arrangements by 'Club Dance Holidays' were faultless as were the transfer arrangements from Airport to hotel and back. Anja the Club Dance Holiday representative present was as helpful and knowledgeable as ever.
The weather was superb, and so all the initial instruction was on poolside. Evening dancing was in a dedicated room. It was just big enough for all of us, but if a larger number of dancers had attended a larger room would have been required, at least for the popular dances. Dancing most evenings was from 8:30 pm until just after midnight, although Jean and I and many others gave up most nights before the final close.
For us there is very little room for improvement compared with this holiday... we could thoroughly recommend the holiday to anyone who wants a dancing holiday abroad."
Jean and Graham Boulton
Club Dance Holidays has two upcoming Line Dancing holidays in the sun for 2016, so come along and join Maggie G and Jean and Graham Boulton for a fun filled holiday to remember:
7 nights Line Dancing in Calpe with Maggie G - Saturday 23rd to Saturday 30th April
7 nights Line Dancing in Paphos with Maggie G - Sunday 06th to Sunday 13th November