Music and Salsa
01/04/2016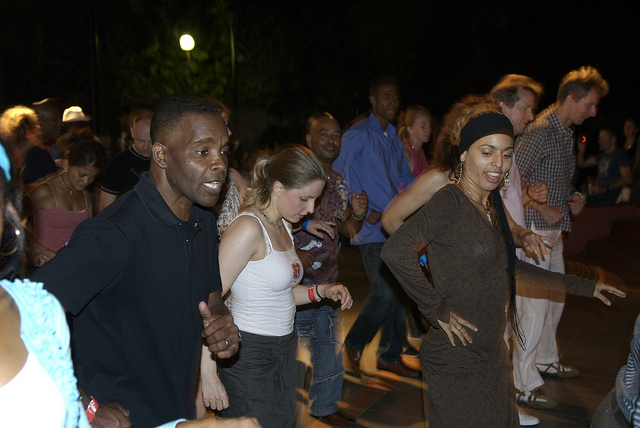 We all know that without music there is no dance. Music is the beating heart of all dance forms, but with salsa it goes deeper intertwined with history and culture. Take a look at how music, Cuban culture and Salsa and Afro-Cuban dance are all connected.
This train of thought first came about after seeing a trailer for a fairly new documentary about Rumba called Havana Club Rumba Sessions: La Clave (2015). Gilles Peterson, a UK based DJ on the popular BBC 6 Music radio channel, and a well-known lover of Latin, African and Jazz music, as well as others, made a documentary, in association with Havana Rum, about the roots of Rumba. Directed by Charlie Inman, it just finished screening at London's Institute of Contemporary Art (ICA) this February.
The trailer looks amazing! You can just feel the air, heat, taste of Cuba oozing out of your screen with the visuals of the dance and beating sound of the music, almost calling you to go over. If only the screen was some magical transportation device that can take you to Cuba straight away. You can see the trailer
here on the ICA's website
.
History of Salsa Music
First let's take a look at the word Salsa. Salsa in Spanish means sauce – a crude example is the spicy tomato sauce you would get with nachos. According to
about.com
:
"DJs, bandleaders and musicians started using (and yelling) Salsa! as they were introducing a particularly energetic musical act or in order to spur the dancers/musicians on to more frenetic activity."
And because the word salsa connotes spicy, hot, wild with Latin culture the word just stuck. Wikipedia goes further in discussing the word, but it's too in depth to write about here but
check the page out if you want to know more
.
The dance Salsa originates and is at its foundation from Cuban Son – you can read about the history of Son
here
. Though over the years has incorporated other Afro-Cuban/Latin dances such as Cha Cha Cha and Mambo. The music is heavily reliant on percussion instruments such as conga, maracas and others, but also non percussion instruments are used including but not exclusively guitar, piano or saxophones. Because of its African roots, the beats tend to copy the style of traditional African songs and the musicians tend to sing the same way.
The music is never in a single rhythm and with a fast tempo and high energy, it is designed to get you on the dance floor and move. You can see it all in the trailer for Havana Club Rumba Sessions: La Clave (if you haven't seen the trailer yet, please check out the link above – it's amazing)
We dare not to be seduced by Salsa or Cuba, and urge everyone to go and get yourself on the dancefloor!
Club Dance Holidays has a number of Salsa holidays in Cuba running in May and October for 7 or 10 nights, having the chance to experience Salsa in the heart of Havana, as well as the chance of experiencing the beauty and culture of Cuba.
Get away from the cold winter weather, sipping mojitos, dancing all night, relaxing on the beach and driving around old Havana in a 50s Americana car.
Also there is the opportunity to celebrate New Year in style – 14 nights in Cuba from 29th December 2016 to 12th January 2017.