Zumba® - your introduction to the worldwide dance/fitness craze
29/01/2020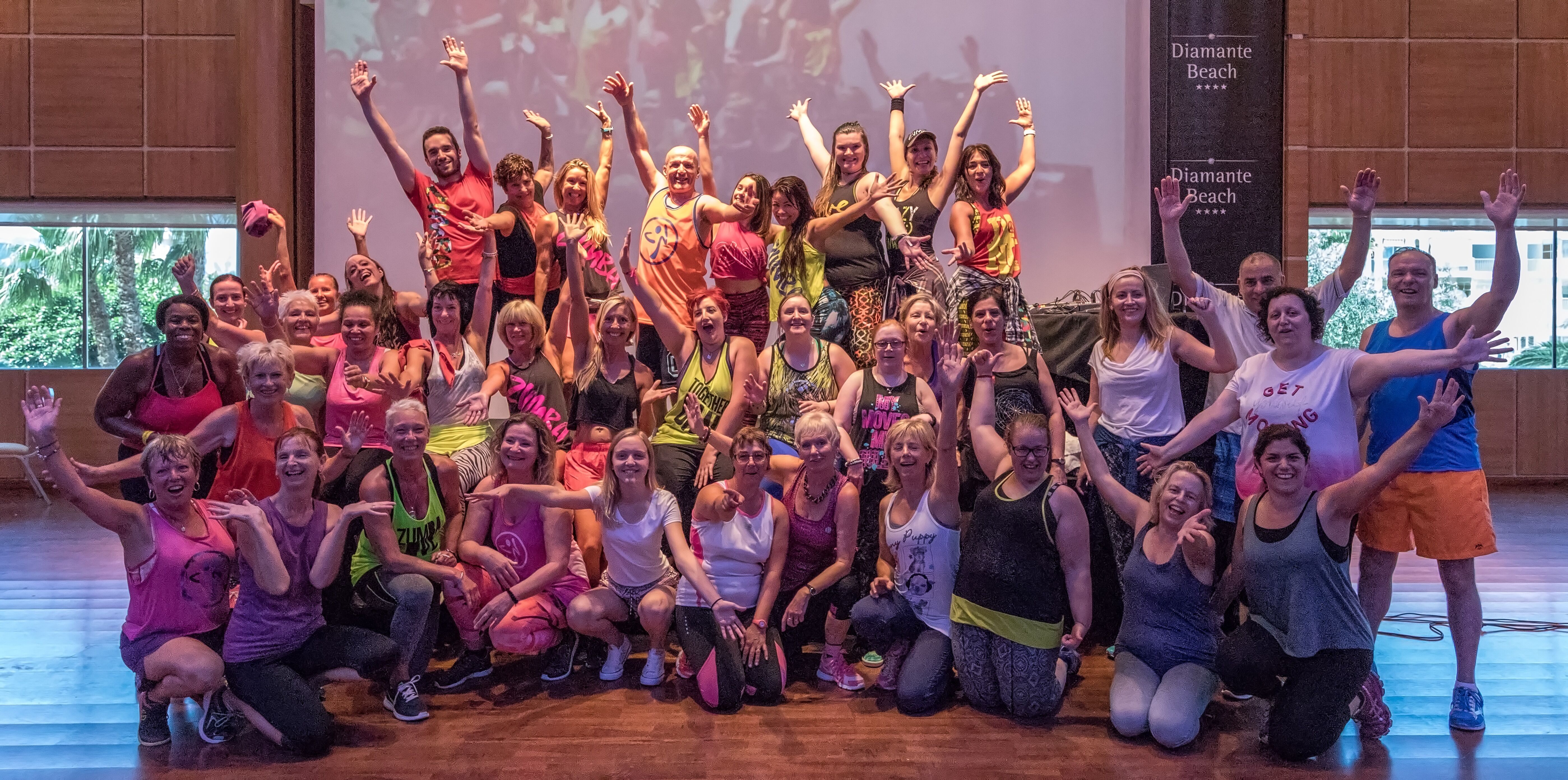 Born out of a lucky accident in Columbia, Zumba revolutionised conventional aerobics training to become a world-wide phenomenon. It has rapidly grown from the 90s, when the aerobics instructor Alberto Perez mistakenly put on some Latin music for his class, to now reach the gyms of more than 100 countries. Transforming the monotonous scene of cardio workouts into a full-blown dance party is the considerable feat achieved by Zumba. In an age where every minute of our day is taken up by work or other serious commitments, the thought of spending even a handful of minutes in a stuffy gym sounds more discouraging than ever. Zumba guarantees to switch up the ellipticals and treadmills filled with grimacing faces for a dance studio filled with laughter, but still just as much sweat.
Whether your dance moves are renowned to steal the show at any party, or you have been blessed with two left feet, there is a Zumba class to get everyone moving. It brings the rhythmic and enthralling beats of Latino music into your workout. Destroying the monotony of circuit repeats, these choreographed step routines have gotten millions of people around the world up on their feet.
Since most of us are not certified salsa dancers, Zumba encourages on to follow a video routine or attend a class to follow a live instructor. Either way, the aim is to copy these moves to the best of your abilities to improve your cardio and strengthen your core. Classes usually last around an hour, a perfect workout to slip into your free time at home with a video, or into your social time by joining a class and exchanging with the community.
Zumba is probably as fun as fitness can possibly get since it has been founded on the very idea of bringing the party to you and your workout. It also attempts to remove some of the intimidation linked to the thought of going to the gym. For those unsure what type of cardio and weight training to follow to get the best results, Zumba offers an upbeat mix of high intensity and body weight exercises led by the varying slow and fast rhythms of the music.
Ultimately, it is the flexibility offered by Zumba's concept which has made so popular as no two classes are ever the same. Your routine is in the hands of the instructor who is free to include any of their unique moves. There's no need to stick to the Cumbia or Merengue, you can take it with you to the pool for some water aerobics or train your skills in martial arts, movement of any kind is Zumba's ultimate goal.
The Workout and the Fun
Zumba classes tend to be of medium intensity to last around one hour. However, the intensity is also highly dependent on the amount of effort you are willing to put in and the class you choose to attend.
After a warmup to boost your heart rate up, a series of songs will mark the intervals of your workout. From slow to fast beats, the pace and intensity of each dance choreography makes sure to match these variations to work on your endurance but still give you some time to breathe. With trainers on your feet, all you need to do is follow the instructor and respond to their cues.
Although Zumba classes vary, all will hit these main three areas of your body: the core, legs and glutes. These are mostly expected from the hip movements and quick jumps at the heart of Latino dance moves. Although its emphasis is on the enjoyment of the class, Zumba is a high-energy and high-impact workout which is a great way to work the body as a whole. There also exists a number of low-impact versions for seniors or anyone who has recently come out of an injury, namely Zumba Gold and Aqua Zumba, which both help in relieving pressure off the joints and ensure that no one ever has an excuse not to participate.
A burn from 500 up to 1000 calories is promised by its one-hour interval workout. Even if you don't complete the hour, any handful of minutes will leave you more relaxed and energised to face the rest of the day. As a bonus, you might even learn some new moves to bring along with you to the next party you attend.
Types of Zumba Classes you can expect
If your knees are not the greatest fan of the quick jumps involved in traditional Zumba, or you just enjoy the refreshing effect of water, Aqua Zumba provides a lower-impact workout. The water reliefs some of the weight pressure from joints but still offers a high-energy challenge with movements coordinated to exploit its natural resistance.
If you are looking to boost your cardio training with some added weight training, Zumba toning incorporates dumbbells into your dance moves. This additional resistance focuses on strengthening your muscles to the same beloved Latin music.
Age should never be an excuse to become sedentary. Although flexibility and muscle strength will vary with time, Zumba Gold is here to meet all the physical requirements provide by the physiognomy of older generations. By targeting the body as a whole, a low-intensity version of Zumba improves and preserves cardiovascular fitness when it is most needed.
Who Should Try Zumba?
Everyone and anyone. There are absolutely no prior skills necessary and workouts are catered to every ages and activity levels. If you have got two legs and the will to move, then Zumba is the one for you. The hour will pass without you even noticing, only your sweat-ridden shirt will be proof of the intense workout you just completed. There is no reason why you should miss out on all the fun and benefits, join the Zumba craze at your local gym or from your TV screen.
Whether you already are a Zumba aficionado or have only recently fallen in love with its enthralling beats, why not follow the fun to your next vacation spot. Spoil your wellbeing this June with an invigorating trip under the Spanish sun in Calpe. This picturesque east-coast town promises a week packed with a variety of daily Zumba classes to get your heart pumping and share your enjoyment with a group of like-minded people. For more information on these seven days of beach, relaxation and fitness take a look at the Zumba Sunblast in Calpe.